At O'Drill/MCM, it is our philosophy to manufacture and market quality products, provide dependable service and be competitive in the marketplace.
O'Drill/MCM manufactures a wide variety of oilfield specialty products namely hydrocyclones (all major brands), Cameron®/Retsco® style B and C reset relief valves, Demco® and Oteco® style shear relief and gate valves and Baker® style float valves and plug valves. Our centrifugal pumps are interchangeable with those manufactured by Mission®, Halco® and National Oilwell.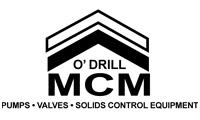 To learn more about how GCI can help you and your company reduce maintenance cost and improve life cycle costs of your rotating equipment, please contact us today!
© 2017 GCI. All Rights Reserved.