LUNETA
RELIABILITY SOLUTIONS
Luneta, LLC develops advanced machinery lubricant inspection technology for machine condition monitoring and reliability. Luneta's technology is designed primarily for the heavy machinery market (OEM and aftermarket) used largely in process plants, including petrochemical, power generation, primary metals, food processing, mining, pulp & paper, pharmaceutical, and cement manufacturing.

Condition Monitoring Pod
Next Generation Machine Inspection and Fault Detection
Early detection of machine faults and abnormal wear is key machine reliability. The failure development period begins with "P", the point of first detection, and ends with "F", the state of operational failure. The longer the PF interval the greater the likelihood a failure can be detected before expensive collateral damage and unscheduled downtime occurs. The CMP enables daily inspections across numerous critical parameters. This capability delivers a huge benefit over less frequent oil sampling and other condition monitoring activities (vibe, thermography, acoustics, etc.).
Most sight glass level gauges are used only to confirm oil volume. Many root causes and symptoms of machine failure are missed due to the limited ability of these sight glasses. The CMP is a multi-parameter inspection pod that greatly modernizes and expands daily one-minute inspections.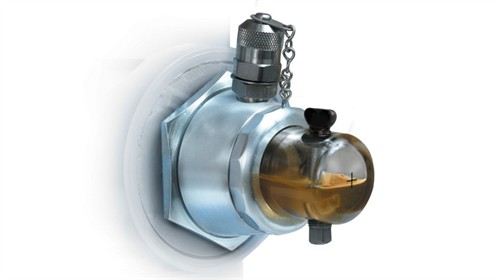 To learn more about how GCI can help you and your company reduce maintenance cost and improve life cycle costs of your rotating equipment, please contact us today!
© 2017 GCI. All Rights Reserved.