AIR SENTRY
RELIABILITY SOLUTIONS
Headquartered in Rockwall, Texas, Air Sentry® is a global leader in developing and manufacturing state-of-the-art contamination control products. Our breathers are considered the gold standard in contamination control and are used worldwide in major industrial, mining, military, power generation and fluid storage applications.
Air Sentry® Breathers were introduced in 1997 to satisfy an obvious and growing requirement in industry—to increase fluid cleanliness, thus decreasing skyrocketing maintenance costs and equipment failure. Air Sentry® was a finalist in Plant Engineering's Product of the Year in 1999 and 2003 for innovative developments in breather technology.
With multiple product lines that maintain an outstanding level of quality, we continue to advance the fight against contamination. Air Sentry® breathers are manufactured under strict ISO 9001 and ISO 14001 Certified Quality Systems in the United States. Our breathers are available around the world through a service-intensive distributor network committed to technical support and total customer satisfaction.

Air Sentry® set the industry gold standard with their first line of contamination control breathers in 1997 and today that standard is raised with the introduction of GUARDIAN™.

Introducing ColorGuard – an innovative, anodized color-coding system that provides immediate identification of contents to prevent cross contamination. This streamlines maintenance and eliminates handling issues. Available in eight distinct colors.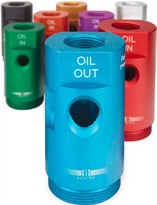 To learn more about how GCI can help you and your company reduce maintenance cost and improve life cycle costs of your rotating equipment please contact us today!
© 2017 GCI. All Rights Reserved.